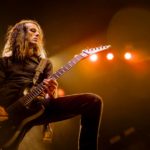 Many thanks to Merritt Goodwin
Original intro and exit music for the MixMasters Podcast is provided by Merritt Goodwin, guitarist for Stitched Up Heart. Give him a shout for original music or killer guitar lessons!
♥  MixMasters Episodes: Here's where you'll find current and archived episodes of MixMasters Podcast. Please subscribe and download, and be sure to tell a friend! Scroll down to explore our guests.
Thanks again to Allen & Heath for their awesome product, the dLive System!
Current MixMasters Podcasts: